Brainstorming is the standard starting point for problem solving for organizations big and small.
According to The Importance of Brainstorming, brainstorming doesn't just encourage critical thinking it also supports team building, sparks creativity, and invites diverse viewpoints into the conversation. It's a healthy way to get the team working together for a common cause, and can invite new levels of collaboration and communication into your team—but that's only when brainstorming is done right.
When Brainstorming Goes Wrong
Brainstorming is only as good as the techniques and tools you have in front of you. Without the right approach, your brainstorming session can quickly spiral out of your hands.
For most people, brainstorming takes place in one of two places: on paper, or on a traditional whiteboard. It's nice to be able to stand up in front of a whiteboard and draw your thoughts out. But here's the thing: Using a pencil or whiteboard marker to problem-solve may be inhibiting your ideas more than you realize.
Think about it. If you start a brainstorming session with paper and pen, you're immediately limited to the physical space of the page or whiteboard. It can be hard to get your ideas out clearly when you're limited to an 8 ½ x 11 page or a small-ish whiteboard in a conference room.
Without room to breathe, all your solutions can start to overlap—or worse, become illegible. What's the point of writing down all your thoughts if you can't decipher them even a few minutes later?
You've also probably had brainstorming sessions where you and your team are thinking faster than you can write, making it far too likely that you'll lose precious ideas and get easily frustrated instead. Your solutions are all right there, but you can't capture them with the tools you have.
The greatest disadvantage of the old brainstorming ways is how these outdated methods actively discourage the sharing of ideas. After you've jotted down ideas on a whiteboard or in a notebook, how can you best share these ideas with your teammates? Your best bet is taking some quick photos of the board before erasing it for the next meeting. Or, you can email pictures of your notes with the risk of your precious ideas getting lost in countless disorganized email threads and Slack channels.
Using the wrong tools to brainstorm can hinder not only the way you brainstorm, but the way you think, and your teams' outcomes.
How Vibe Gets Brainstorming Right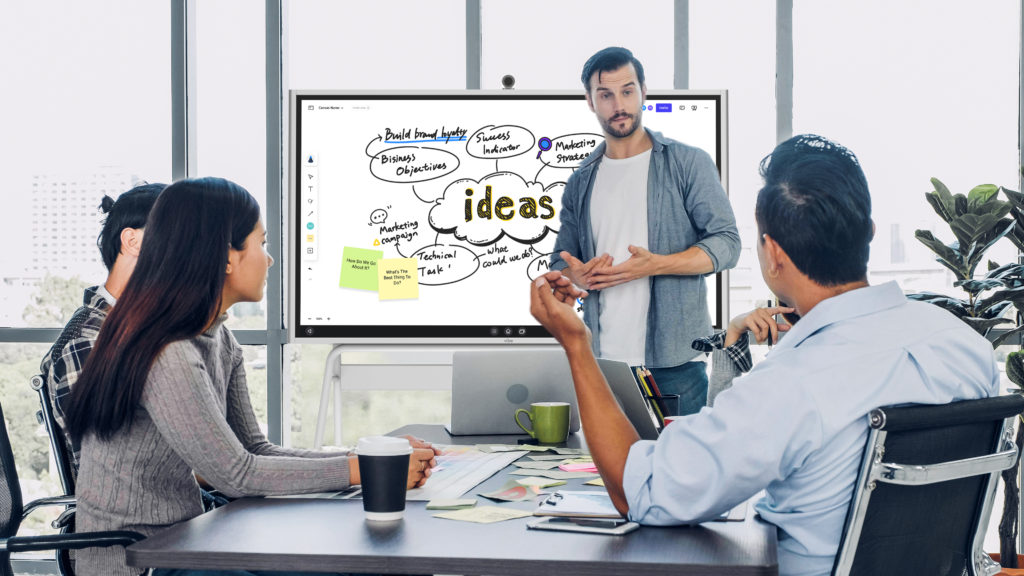 It doesn't have to be this way. With Vibe's all-in-one collaborative hub, you can have successful, effortless brainstorming sessions like never before. Let's break down how.
Brainstorm on Your Feet
As we covered, whiteboards are only as good as they are wide. The spatial constraints are whiteboards' biggest disadvantage. With a Vibe Board, not only can you work with massive 55-inch and 75-inch screens, you can also write and draw on an infinite digital canvas with Vibe's online whiteboard app, Canvas. With Vibe, you can forget worrying about running out of room—and get used to finally giving your ideas all the space they need to grow. 
Vibe Boards can also bring your ideas to life in other ways. As you've probably heard throughout the standing desk craze, studies have shown that working while standing can lower certain health risks. As offices and employees alike invest in standing desks, don't overlook the power of a smart whiteboard. With a smart whiteboard at the center of your collaboration space, you can think on your feet (literally) and encourage not only an active and healthier lifestyle, but active thinking as well.
Think about how you can work best in your space. When you're sitting, your work can feel repetitive and rigid. When you feel disengaged and disinterested in your workspace, your work can suffer too. If you add a state-of-the-art device like a smart whiteboard to your workspace, it's much easier to snap out of a dull work day and feel creative again. That's because you're up and moving while you work—like research says you're supposed to.
Go Back to the Drawing Board
With the Canvas app, your brainstorming process can finally feel creative again. For starters, the infinite Canvas is accessible from anywhere, whether you're brainstorming on your phone, your tablet, your laptop, or the Vibe Board. No matter where your thoughts take you, your Canvas is with you. You can even customize your Canvas workspace with your favorite pens, brushes, and highlighters.
Easily sketch out your ideas on Canvas to help kickstart a productive brainstorming session. According to Harvard Business Review research, a combination of drawing and writing is ideal for generating creative solutions to problems. That's because they invite teams to think spatially again, connecting ideas in new ways for even newer solutions.
Vibe makes spatial thinking easy. First, you never have to worry about your drawings or notes being illegible. You can use the Smart Text feature to convert any messy handwriting to standard text, or use smart shape to turn a questionable triangle into a clean shape. You can also connect ideas by creating a quick diagram, literally drawing a line between different trains of thought. By keeping your brainstorming session visual, you can also help team members who learn best with visual processing.
Brainstorm Outside the Box
Sometimes, the best way to think outside the box is, surprisingly, to start with some structure.
If you're not sure how to get started with a brainstorming session, check out our pre-built Canvas templates. Take the Brainwriting Template, for example. Nothing stops an idea faster than a judgemental comment. When criticism comes so early in problem-solving—especially in those first steps of inquiry—the entire process can get jumbled. There's no room for judgment or the insecurity it brings in a brainstorming session. Instead, brainstorming should always happen in a collaborative and communicative environment to ensure you're getting the maximum number of ideas and suggestions. If someone is too scared to propose their idea to a tough crowd, their team may never hear their valuable ideas—and worse, the problem may never get solved.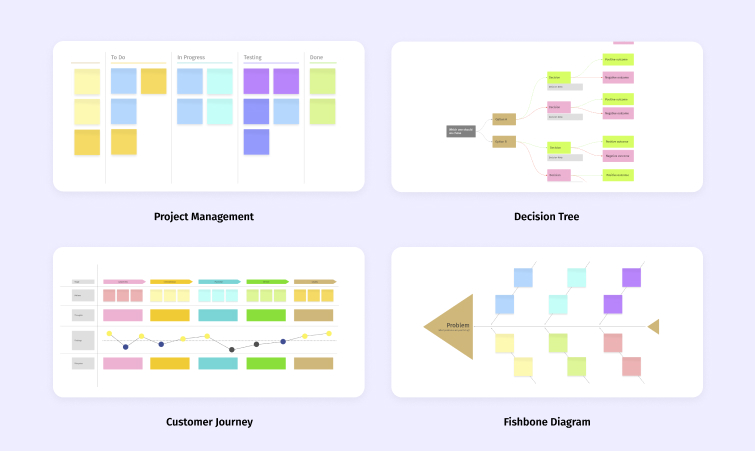 Brainwriting involves writing ideas down rather than vocally sharing them. Without the pressure of public speaking, teammates can contribute unique ideas that might not have been shared in front of a crowd. Try it out yourself: Have everyone in your team jot down a few ideas in the template, then let other team members build on each other's notes and add their own thoughts to the template. Finally, take a step back and discuss the growing list of ideas you've all created together.
Another way to lean into structure to build great ideas is to work with what you already know and love. In the old ways of brainstorming, even if you emailed your session notes around afterward, it was hard to plug those notes in and connect them to your larger strategies. Photos of notes or pictures of a whiteboard don't integrate neatly into Slack threads, PowerPoints, and Google Sheets.
Luckily, with Vibe, you can rely on Vibe Board's countless app integrations. Easily pull up your usual productivity tools and apps to brainstorm on the big screen. Like what you came up with last brainstorming session? Annotate over the finished product (or just your brainstorming notes from last time) with the team, so you don't have to start from scratch. Even better, you can screenshot or screen-record your Board screen to keep your annotations fresh in everyone's minds.
Sharing is Caring
A brainstorming session with Canvas looks like easy, hybrid collaboration. That's because you can work on the same infinite Canvas with your entire team in real-time—whether they're at the Vibe Board with you or adding notes from their personal device.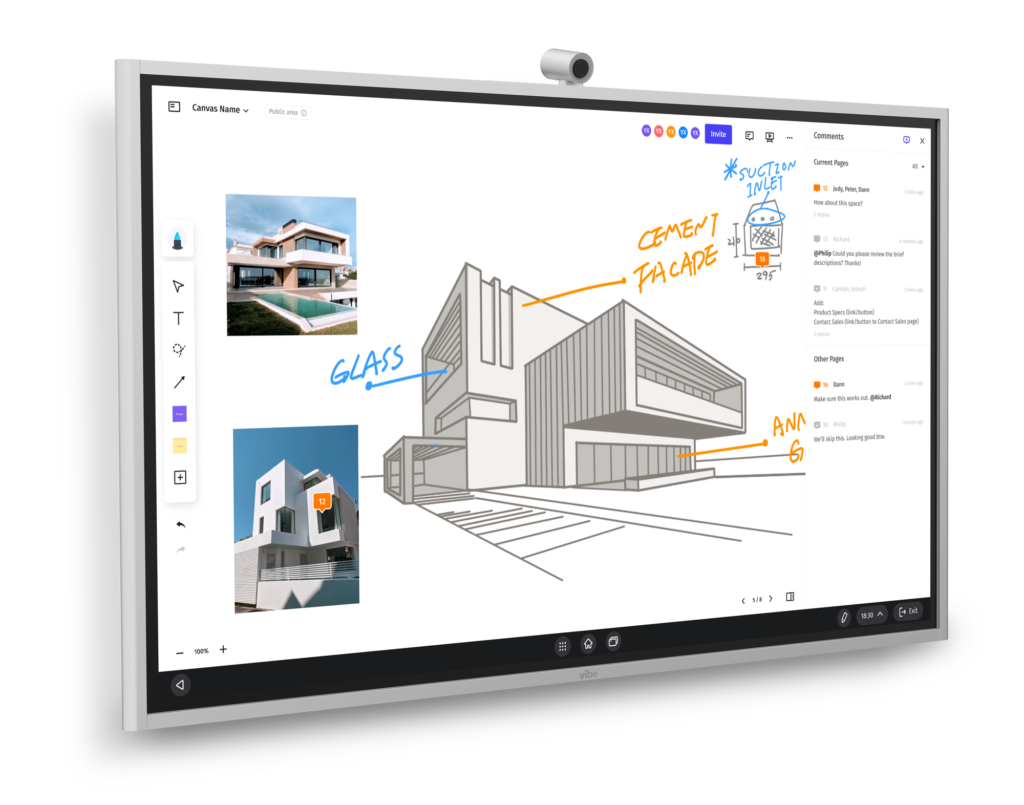 With Vibe, everyone can grab a pen and join the brainstorming huddle, even if some of the team is working remotely. Have a team member that can't make it? Switching between different work stations but want to pick up where you left off? Vibe Canvas automatically saves everything to the cloud, so you never have to worry about losing that train of thought. With Vibe's new S1 huddle room solution, remote team members can even see what's going on inside the room during the brainstorm using the Ai-enabled SmartCam C1.
When your brainstorming sesh is over, you can quickly send the session to all participants for later review. You can even return to the Canvas at a later time to continue collaborating with your team until you've found the perfect idea. Use the new Vibe One app to easily share your Canvas directly from your smartphone. Save and share your Canvas via email, or export it to Slack, Dropbox, Box, and more. Vibe seamlessly removes needless barriers to your brainstorming sessions with an accessible, infinite, and collaborative canvas that's easy to work on and even easier to share.
Get Started with Vibe
Vibe Boards and Canvas remove the clunky, inefficient roadblocks of typical brainstorming sessions, making them seamless and actionable. With unlimited, cloud-backed space, you can effectively brainstorm by yourself or with your team like never before.
Looking to see Vibe brainstorming in action? Discover how Mark Smith, CEO of Leadership Resource Institute, uses Vibe in his problem-solving sessions right here.
Interested in making Vibe your ultimate brainstorming tool? Watch a demo here.
We are sorry that this post was not useful for you!
Let us improve this post!
Tell us how we can improve this post?