The ability to coach teams and individuals is among the most important skills a frontline manager can have to establish a healthy office culture and a positive work environment. Unfortunately, it also appears to be one of the rarer commodities available in modern professional settings. Just 33% of U.S. employees report feeling engaged in their work, and a whopping 86% classify their bosses as uninspiring.
Whether in an office setting, organized sports, or even life coaching, quality talent development tools will always be in high demand. We built Vibe Boards to be a versatile tool any coach can use to demonstrate new skills, listen to and accept feedback, and better engage their respective teams.
Here are seven ways Vibe can level up your coaching and boost your team's overall performance:
1. Show Your Team You're Really Listening
It's easy to skip over this one and dive right into all of Vibe's technical features coaches can use to illustrate the finer points of their new ideas. But interacting with your team (or clients, or employees) requires both give and take—interactivity is a two-way street, and when individuals don't feel heard, they tend to check out quickly. With this in mind, Vibe products are designed to fuel conversations with dynamic components that allow for audience input.
The Board's whiteboard functions such as markups, drawing, highlights, and annotations make it possible for quick and easy audience feedback, even if some of your team is tuning in remotely. Coaches can also seek more pointed engagement through polls or a simple Q&A.
Guiding coaching sessions by asking questions and carefully considering the answers will help make this time more valuable and ensure your audience feels heard.
2. Build Strong Connections Over Large Distances
Speaking of remote teams, Vibe helps coaches tackle several of the challenges that tend to arise when 76 over great distances. The evolution of remote work over the past few years has provided some incredible benefits to those seeking greater work-life balance, but often with the downside of more impersonal relationships and less frequent communication with coworkers, clients, and managers in the home office.
Boards help close this distance by facilitating coaching sessions across different locations and devices. Not only will these sessions generally be more engaging than the standard video catch-up sessions coaches tend to default to in these post-pandemic times, but they'll also be stored safely in the cloud for future reference. With Vibe saving each coaching session in the cloud, you'll be able to address previous ideas, questions, or concerns from week to week and focus your coaching on the areas it is most needed.
3. Why Vibe Templates Are Key to Your Next Coaching Session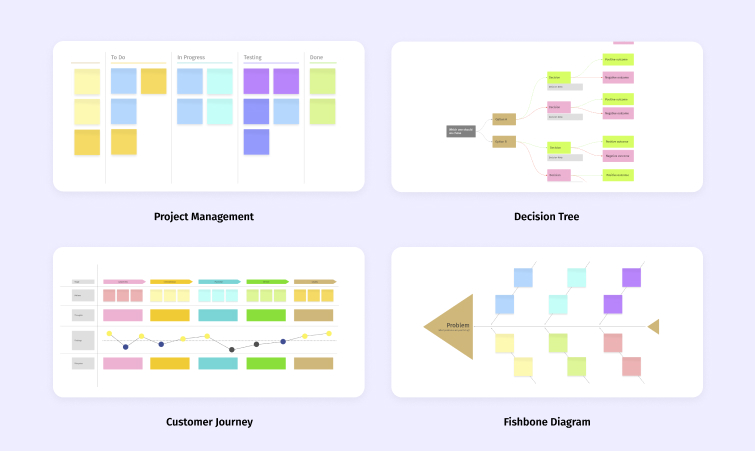 Templates are one of the most valuable tools available to help coaches and consultants lay out their plans. Vibe Boards come preloaded with several useful templates to facilitate all kinds of presentation formats, including flowcharts, org charts, value proposition graphs, empathy maps, decision matrices, sticky-note style priority charts, and yes—even basketball court mode.
With templates, you can get the most out of your smart whiteboard Canvas without the hassle of creating visuals from scratch.
4. Don't Just Hold the Same Coaching Session Every Week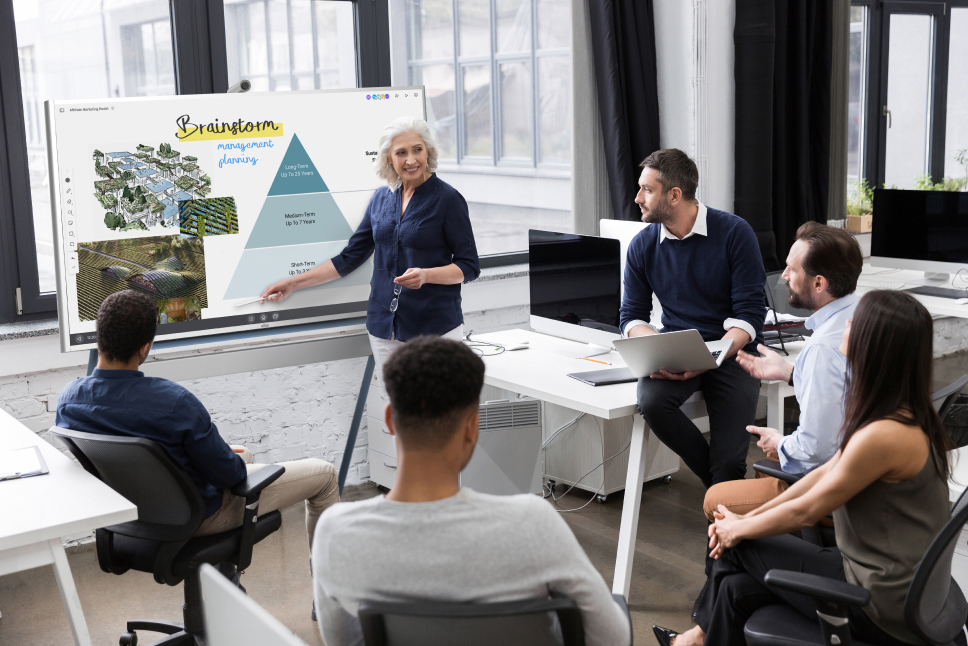 The goal of good coaching is to unlock an individual's (or a team's) full potential. No one wants to attend a directionless coaching session, especially if it's nearly identical to the previous week's 1:1.
By using Vibe to its fullest, managers can bring something new to the table each week (without being gimmicky). Vibe Boards offer tons of options to innovate on the traditional coaching format, hold the attention of your respective audience, and make a more memorable impact. Utilize Vibe's suite of interactive tools and integrated apps to keep things fresh and avoid needless repetition. Implement video, training exercises, apps, and countless other integrations to provide effective training in an easy-to-use format.
5. Make Your Coaching Sessions a Conversation
There are few methods of coaching less impactful than talking at a silent audience for 30 minutes without ideas or feedback breaking any new ground. It's not difficult for listeners to check out or become distracted, particularly if they're tuning in from home.
As we've previously mentioned, the key elements of ideation and feedback need to be present for any real buy-in to occur, no matter the setting. Even in a 1:1 coaching session, it takes a mutual interest in improving skills or learning from mistakes in order for any real progress to take place.
Vibe Boards encourage interactive, engaging meetings through a variety of tools. Thanks to the cloud, any presentation or document can be accessed by multiple parties simultaneously in real time—that means markups and highlights appear for everyone and are automatically saved. The ability to share, highlight, and annotate throughout a coaching session makes the Board a perfect tool for facilitating collaborative coaching techniques.
6. Use Vibe to Demonstrate New Skills
Vibe Boards aren't just tools for the office—educators are one of the biggest Vibe proponents thanks to its many advantages over the standard whiteboard experience. It follows that coaches are interested in many of these same benefits as teachers, since much of what makes a good coach is their knack for teaching new skills in a simple manner.
Coaching with Vibe is a great way to ensure information "sticks" in the long-term. Research shows drawing is a particularly effective way to facilitate comprehension and retention, nearly doubling the amount of information retained after a session. Hands-on learning is one of the most impactful experiences a good coach can provide, and through Vibe, the opportunities for interactive learning are virtually endless.
7. Create Your Plan of Action (and Stick to it)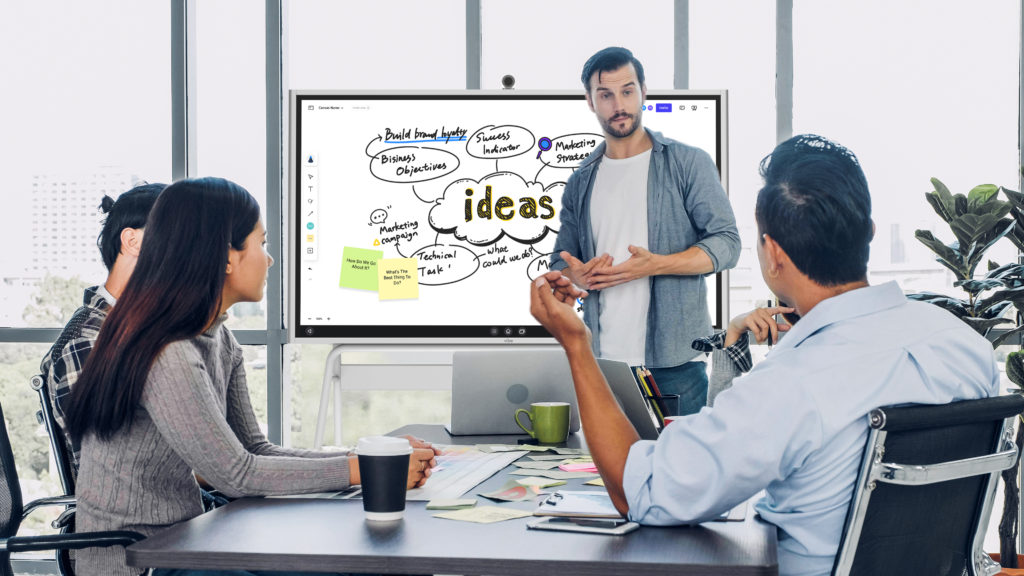 Giving your employee, team, or client a few actionable takeaways is a great way to ensure your coaching session takes hold. Whether the goal is to develop a skill, implement a new technique, or be more mindful of certain objectives throughout the week, it helps to conclude with a focused look at a few natural next steps. Allow your team access to any notes from the meeting and an opportunity to revisit the training material after the session, including any of the following relevant training aids:
Training videos
Interactive activities
Online aptitude quizzes
Other educational resources on the topic
This is another chance to use Vibe's dynamic smart whiteboard capabilities to your advantage. A quick bullet point list, a highlighted section, or some additional resources to review (remember, people can access your Canvas via their own devices later if there are lengthier materials you want them to check out) can all be pieced together at the conclusion of your coaching session. Giving both audience and instructor a clear idea of what comes next will ensure the session won't be quickly forgotten as other more time-sensitive tasks creep up.
Better Coaching Sessions with Vibe Boards
We're in an era of fast-paced technological innovation across virtually every industry. Success today relies heavily on how well these technologies are implemented within our changing work environments. It follows that these versatile new tools should enhance the coaching capabilities of those tasked with up-leveling staff and providing new skills. Vibe works to build versatile products capable of adapting to virtually any use, with a host of engaging features under constant refinement.
Smart whiteboards are designed with user-friendly UI and built to work alongside any suite of apps or programs your business may already be using. With Vibe's infinite Canvas and cloud-based access, even the newest coach can get the most out of their communication with teams both in-person and remote.
We are sorry that this post was not useful for you!
Let us improve this post!
Tell us how we can improve this post?