In today's hybrid world, communicating effectively with clients presents new challenges. But with the correct technology and some self-awareness, it's easy to elevate client communication to help keep your customers happy and attract new prospects.
No matter where you are in the customer journey, from pitching to training, coaching, or retention, here are a few tips for improving client communication with a Vibe Smart Whiteboard. 
What Does Effective Client Communication Look Like?
Since client communication is such a broad term, many businesses develop a client communication strategy to guide and inform interactions with external customers. Depending on the industry, a client communication plan could be detailed or broad to allow for more personalized customization.
A communication strategy sets both a baseline and an expectation for communication and ultimately customer satisfaction. Strategy alone does not guarantee positive customer experience. If executed poorly, your client communication could actually be hurting your chances at closing a deal or your relationship with a current customer.

When communication is effective though, the results are resounding. According to a Zendesk survey
, nearly three out of five consumers said customer service is directly tied to their loyalty to a brand. 
8 Tips for Communicating Effectively with Your Clients
Whatever form your client communication takes, there are plenty of ways a Vibe Smart Whiteboard can help. Here are eight of the top ways to communicate more effectively with your clients using an all-in-one communication system designed for client-facing professionals.
Perfecting the Pitch
Pitching a client is your chance to make a strong first impression. Across the last few years, perfecting a strong pitch has become increasingly more difficult with less access to in-person sales meetings. As the sales process evolves, it's important to make sure your pitch does, too. Here are four tips for making the most of your pitch, no matter where you're presenting.
1. Selecting the right channel.
If you're preparing to pitch a client, you've probably already done your research. That said, pay close attention when selecting the best channel for delivering your pitch. Video conferencing is an excellent tool for maintaining a face-to-face element if you must do a virtual pitch.
For a virtual pitch to be successful, you'll need to do more than screen share a basic slide deck on a Zoom call. Vibe Smart Whiteboards integrate with a variety of your favorite apps, from video conferencing platforms to presentation software, such as PowerPoint and Prezi. App integrations like these make it easy to split-screen your presentation on your board, so you can keep an eye on your audience's body language while presenting. Missing your laser pointer? Use your Vibe stylus to annotate over your presentation, third-party apps, or to your clients in real-time to make sure everyone's ingesting the information they need.
2. Have a unique hook.
A captivating hook is essential to any great sales pitch. Great hooks come in all forms, from quotes to images, videos, or a powerful question. When you've decided on your hook, it's easy to import an impactful data point or handwrite a question on your Vibe Smart Whiteboard to draw your audience in before moving to your slide deck. 
3. Make it personal.
Personalization is one of the best ways to improve your pitch. We're not talking about generic email personalization either. As much as you may want to spend precious time highlighting key features, focus your pitch around the benefit you'll provide specifically to your client.

Once you've identified the pain points or the key needs of your prospective client, it's time to get to work on framing your features as benefits that address the things that matter most to them. Need help understanding your clients' specific needs? Try brainstorming using one of Vibe's customer-centric Canvas templates, such as the Customer Journey template, the Empathy Map template, and the Value Proposition template.
4. Show, don't tell.
Last but not least is storytelling. In a recent Forbes article, members of the Forbes Business Development Council shared their top insight for ways to maintain client communication. According to Bosch eBike Systems' Claudia Wasko, it's imperative to meet prospective clients in their environment and tell inspiring, human stories about how your product solves problems or improves quality of life.

One of the best ways to bring your storytelling to life is by showing your product or service rather than simply speaking to your audience about it. Consider preparing a demo or a customized mock-up in your pitch. Vibe's Canvas technology allows you to invite your audience to actively engage in these materials with the ability to mark up documents or images in real-time, from anywhere.
Leading Engaging Training and Coaching Sessions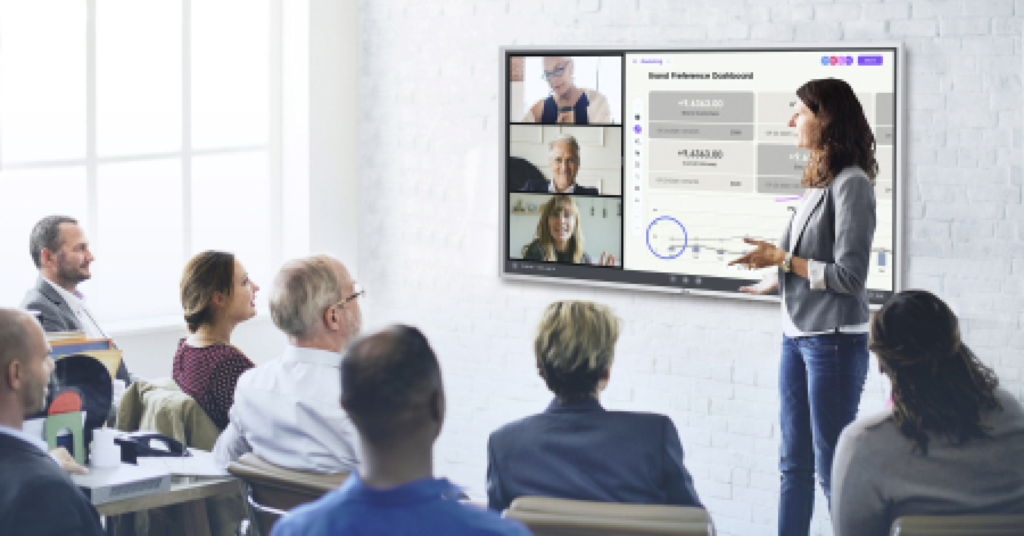 Congratulations, you've successfully pitched a prospective client! Whether you're onboarding trainees or running coaching sessions, using a Vibe Smart Whiteboard can help you elevate these client interactions. Here are four ways to lead active and engaging training and coaching sessions with your clients.
1. Make it interactive.
Training and corporate coaching sessions are only as good as the amount of engagement you can achieve from your clients. Adding as many interactive elements to a training session as possible can help you increase engagement and overall experience.
A few examples of interactive elements include:
Polls or open-ended questions to check for understanding or areas that may need to be revisited.
Small group or breakout sessions to foster collaboration and discussion surrounding complex topics or concepts.
Group brainstorms to solve problems or roleplay potential scenarios.
For hybrid teams, Vibe Smart Whiteboards allow in-person and virtual participants to contribute in real time. An unlimited canvas also ensures there will always be enough space for collaboration. 
Vibe Smart Whiteboard are also effective for athletic coaching sessions, too. Film analysis and breakdown is one of the most essential aspects of any athlete's game. For in-person sessions, coaches can stop and start videos while also highlighting key frames. Together, athletes and coaches can annotate and even export board sessions for future reference. 
2. Prioritize client learning.
There are lots of ways to facilitate client learning. For example, instead of offering an answer to a complex problem, consider mapping out your full thought process in a shared Canvas and inviting your client to participate in your process. Not only is this more engaging for your client, but it's also a way for you to both get on the same page — literally!
If you're training a client on a complex skill, mix up the mediums you use to teach. Incorporate videos or upload your existing training templates to your Vibe Smart Whiteboard to reinforce the skill in a new way. 
3. Use active listening.
No matter what kind of interaction you have with your client, it's critical to focus on listening, especially if you're using virtual channels. A recent feature from Harvard Business Review points out a challenge many organizations have faced with clients — the temptation to multitask during a virtual session.
By keeping virtual sessions highly interactive and collaborative with a Vibe Smart Whiteboard and Canvas, you can have peace of mind knowing that your audience is attentive, present, and not only actively listening, but actively contributing.
4. Pick the right tools.
Nothing is worse than fumbling through a session with technology that doesn't function correctly or serve the needs of your clients. Before engaging with a client, make sure you have the right tools to effectively communicate. Whether it's a CMS to track interactions or project management software to keep tabs on deliverables, it's important to be sure the technology you're using is effective for making client communication easier.
Did we mention that Vibe integrates with apps like project management tools? With Vibe, you can use the project management software you already know and love with all the added perks of your smartboard. After a session, it's easy to save session notes or attach documents with client feedback — all from your Vibe Smart Whiteboard.
How Real Customers Are Using Vibe for Client Communication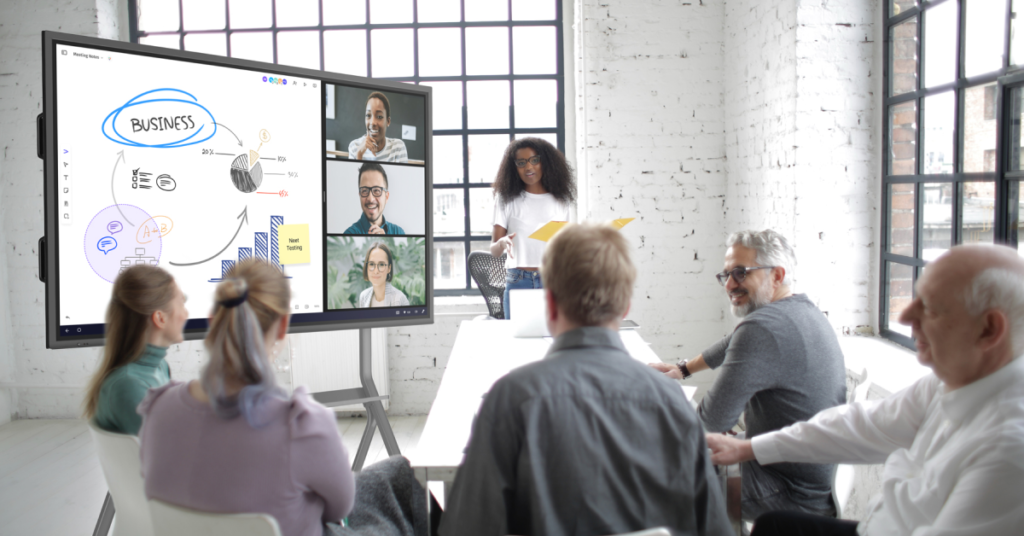 Are you ready to improve client communication? Here are two ways Vibe customers are using their boards to help build their brand and increase client engagement right now.
Leadership coach Sam Silverstein needed to find a way to offer the same value to his clients in a virtual event setting. By upgrading his workspace with a Vibe Smart Whiteboard, he's able to unlock new levels of creativity in the office and give more dynamic presentations. With the swipe of a finger, Silverstein can switch between slides and a blank Canvas, illuminating ideas through real-time drawings to help clients understand concepts on a deeper level.
At the start of the pandemic, tennis coach Ian Westermann needed a way to better engage his athletes and stand out from other tennis coaches. For in-person training, Westermann uses his Vibe Smart Whiteboard as an on-court teaching aide, quickly diagramming strategies and tactics on a tennis court diagram or showing YouTube videos. He also tracks individual athlete progress, adds notes, and exports PDFs for athletes to review after sessions. 
Want to learn more about Vibe? Check out more customer stories or watch a demo today.
We are sorry that this post was not useful for you!
Let us improve this post!
Tell us how we can improve this post?