Before the COVID-19 pandemic, 75% of the American workforce had never worked from home before. While many employees have returned to the office, 70% of white-collar workers still work remotely. Most research indicates that the WFH setup is attractive to employees, with 85% preferring to apply to jobs with remote-work flexibility.
From flexible working hours to more time for focused work, much has been said about the benefits of remote work. However, you must have the right communication and collaboration tools in place to reap those benefits. These days, you'll need more than email and Microsoft Office.
Below, you'll find essential tools to round out your business communication solutions stack for remote work.
VoIP service providers
The days of using a hardwired telephone are mostly over. While you may not have a dedicated desk phone at home, that doesn't mean you have to rely on your personal cell phone either. Today, many businesses rely on VoIP service providers to communicate telephonically with customers, colleagues, and other contacts. This service route calls over a high-speed internet connection and may provide features to build a unified communications platform. You can make a call via the service and use a headset to improve your audio.
The benefit of using a VoIP service are many, including:
Lower costs: VoIP services cost less than traditional telephone services.
Scalability: It's easier to add new employees to a VoIP service as it requires no hardwiring and complicated installations.
Portability: Employees can take the VoIP service with them from the office to home and wherever else.
Among VoIP service providers, RingCentral, Grasshopper, and 8×8 are some of the top contenders on the market.
RingCentral
RingCentral is one of the best-known options and uses a cloud-based PBX platform. Businesses can make use of several cloud-based services, including phone, video, message, and contact centers.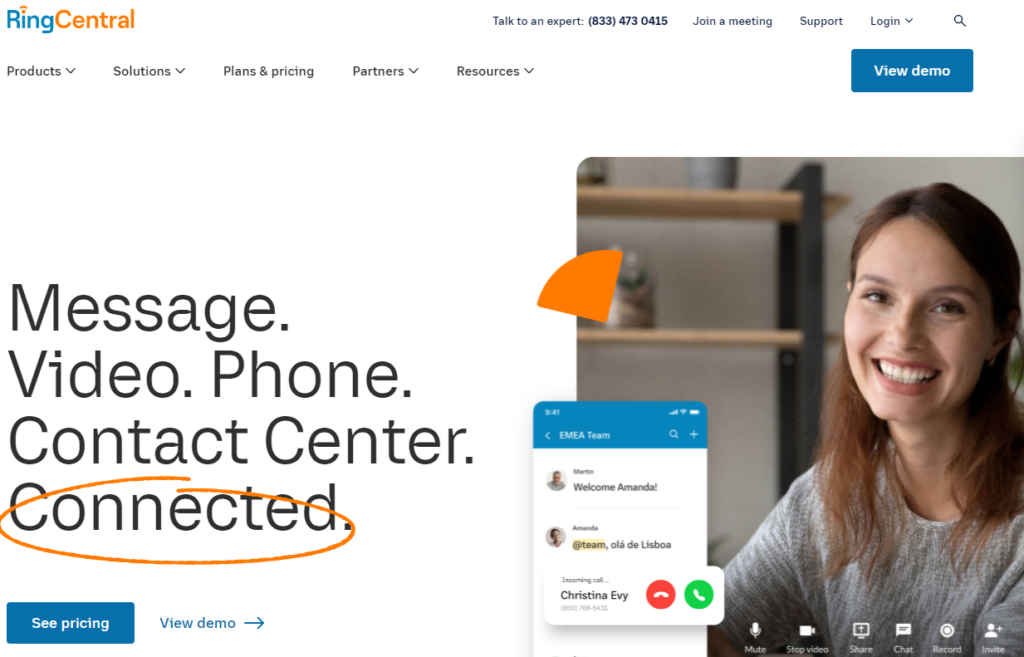 Grasshopper
Grasshopper markets its VoIP services to small businesses and entrepreneurs. It uses a dedicated service provider's cellular network for calls as well as Wifi and VoIP options. Grasshopper's options are designed to be affordable and accessible for businesses of all types.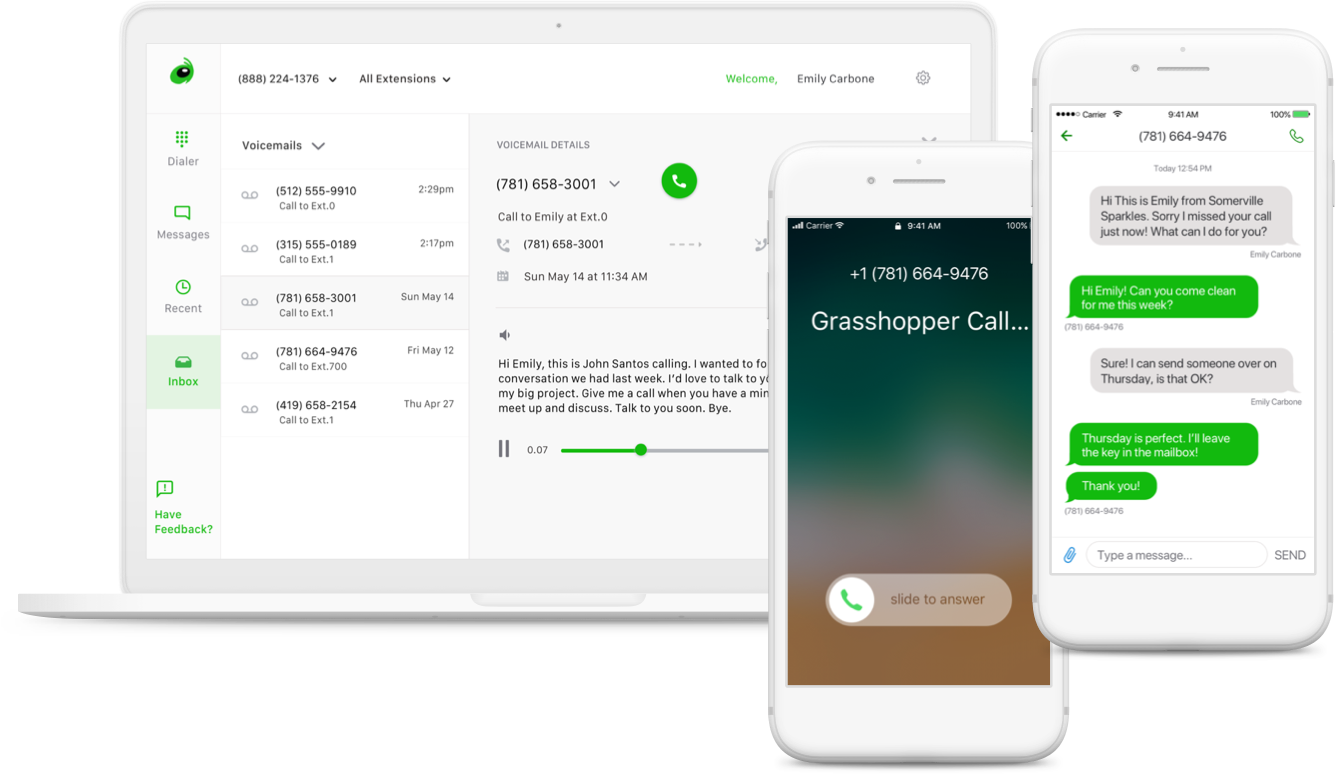 8×8
Previously known as Integrated Information Technology (ITT), 8×8 has provided communication services since the '90s. The company began offering VoIP services in 2000. Today, businesses can launch their own integrated contact center voice, video, chat, and embeddable communications with the platform.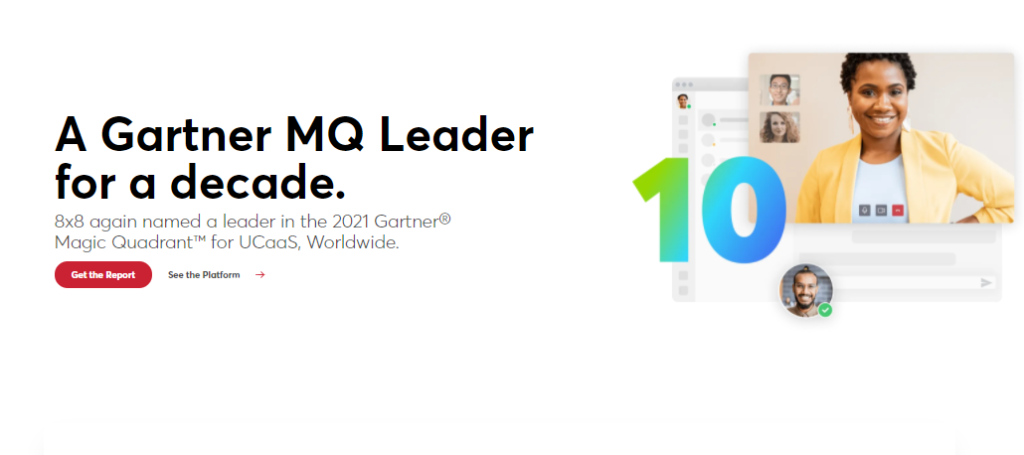 Remote meeting software solutions
Meetings today look quite different than those of the past. It's not uncommon to join a meeting with participants located on and off-site. Remote meeting software has gone from a nice-to-have to an absolute must.
Before purchasing remote meeting software, be sure to have an idea of your user count and how many participants you plan to host at a time. Many solutions will charge you per license or seat.
Here are some of the most popular options for remote meeting software:
Zoom
Zoom is synonymous with "remote meetings." The meeting software solution includes phone and video conferencing as well as chat options. It has grown exponentially in popularity largely due to its ease of use and high quality. You can integrate the tool into your Google Calendar, Slack, Hubspot, Vibe, and more.

Related: Zoom Features for Teachers: Our Top Picks
Google Meet
Already have a Google Workspace? Google Meet, formerly Google Hangouts, offers a convenient way to schedule and host meetings. The remote meeting software syncs directly into your calendar. Paid plans offer additional features such as breakout rooms, polls, Q&A, and more.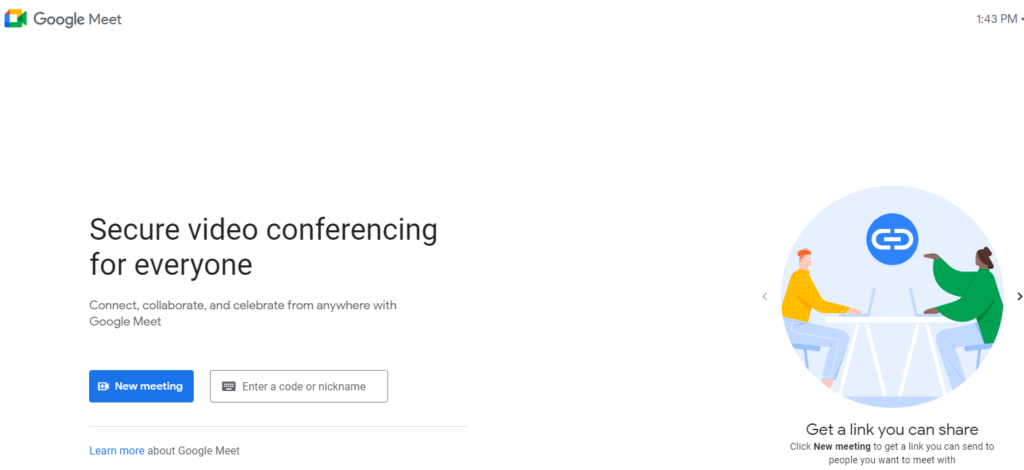 Related: The Best Uses for Google Meet, Hangouts, and Chat
WebEx Meetings
Cisco began offering conferencing applications under its WebEx Business brand in 1995. WebEx Meetings offers audio and video conferencing for businesses of all sizes but is particularly popular with enterprises. Some of the more interesting features include real-time translations, automated meeting tasks, and noise cancellation.

Cloud storage solutions
As you're creating documents and presentations while working from home, you'll need a convenient, secure way to store and share all of that information. Instead of sending files over email, use a cloud storage solution designed for businesses. These solutions allow you to easily save and share files.
The following are some of the most used cloud storage solutions by businesses:
Google Workspace
Google Workspace is essentially the business version of Google Drive. You can store everything from documents to videos in one place. Google Workspace integrates with Docs, Sheets, Slides, and more. You can manage sharing permissions so that files are only accessible to the appropriate users.

OneDrive for Business
Similar to Google Workspace, OneDrive for Business is designed for organizations. The cloud storage solutions integrate with Windows, so you can upload files from your desktop. It also provides access to Sharepoint, Microsoft's collaboration tool. You can share, edit, and collaborate directly on files with other users.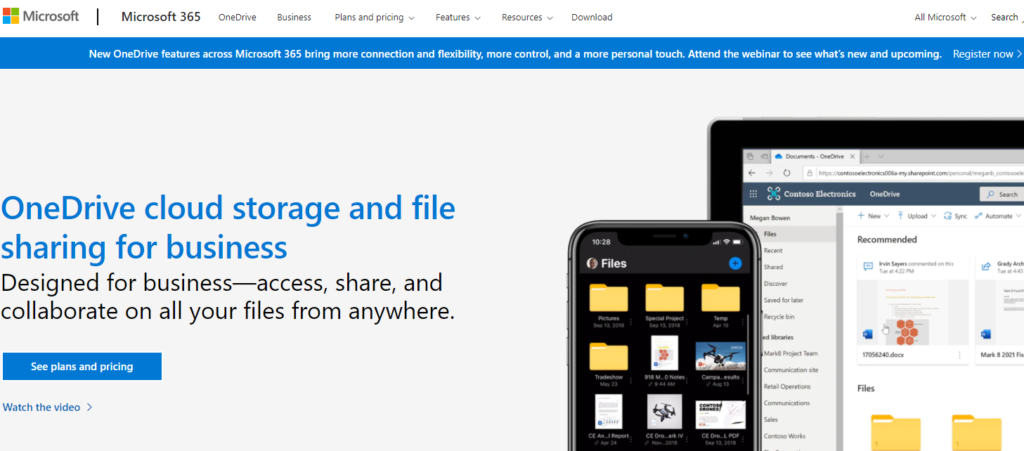 Box
Box is built for secure file sharing and collaboration. The content management system integrates with Google, Microsoft, Slack, etc. Like Google Workspace and OneDrive, you can store and share files, access them remotely, and collaborate on any device at any time.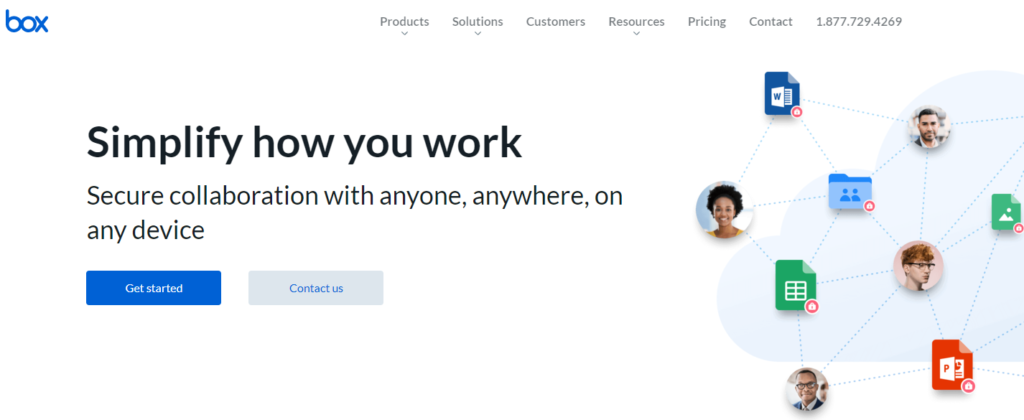 Interactive smartboards for collaboration and video conferencing
Miss brainstorming on whiteboards in the office with your colleagues? With interactive whiteboards, you can bring real-time collaboration to remote meetings. These smartboards offer the ability to ideate, annotate, innovate, and more together across devices and locations.
Vibe
Vibe is one of the most interactive, affordable smartboards on the market. The 55" model comes in at $2,999 with full functionality (no subscription or annual fees either). One of the biggest benefits of this model is that it offers an open ecosystem with dozens of app integrations. You can integrate all your favorite business communication solutions like Zoom, Google Workspace, Slack, and more right into your Vibe.
Unlike traditional whiteboards, you don't have to worry about losing your great ideas once the meeting ends. Your canvas is saved to the cloud in real-time, so you can always pick back up where you left off.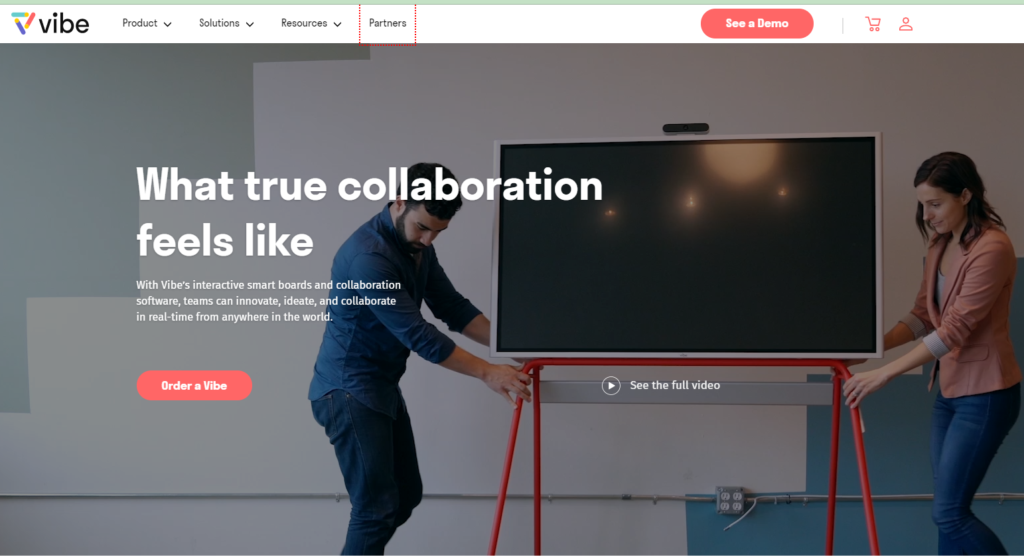 Surface Hub
Microsoft's Surface Hub is an interactive whiteboard built for businesses. The smartboard offers both real-time collaboration and video conferencing functionality. The meetings platform is also certified for Microsoft Teams. As one of the more expensive options on the market, the 85" Microsoft Surface Hub II offers a big screen at a big cost: $8,999. You'll also need to factor in the cost of Microsoft Office 365 software.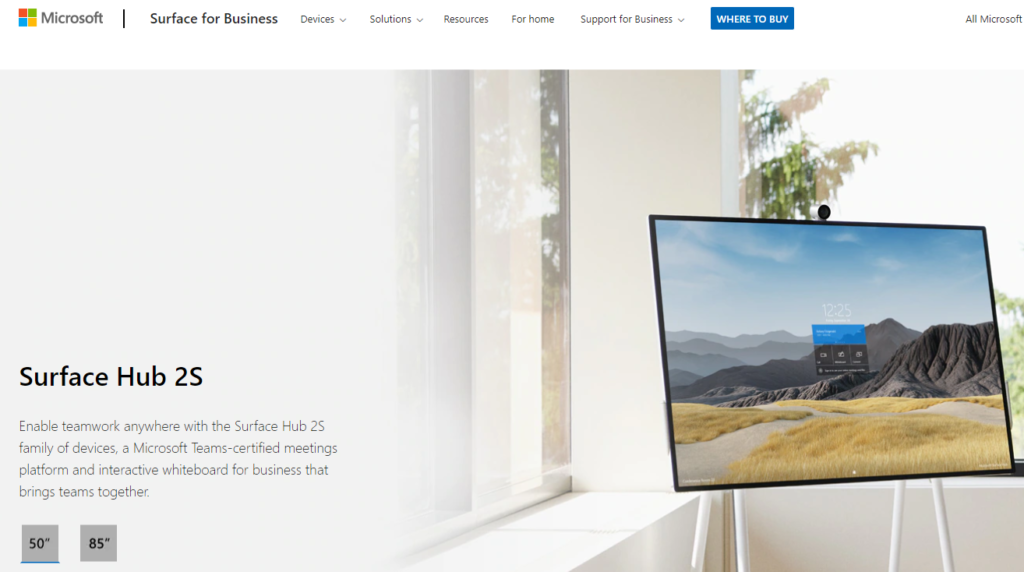 Related: What's an Interactive Whiteboard, and What Does It Do?
Remote communication and collaboration tools
Email works great for remote collaboration, but it has its limitations. Remote employees need convenient ways to exchange information, chat, and keep each other up-to-date. It's easy to lose information in long email threads.
Remote communication tools, such as the ones listed below, offer the ease of email with greater accessibility.
Slack
Slack is one of the best-known remote communication tools on the market. It's more than a messaging app. Slack offers instant messages, communication channels, audio and video conferencing, file sharing, integrations, and workflows. Users can customize their profiles and settings for a personalized experience.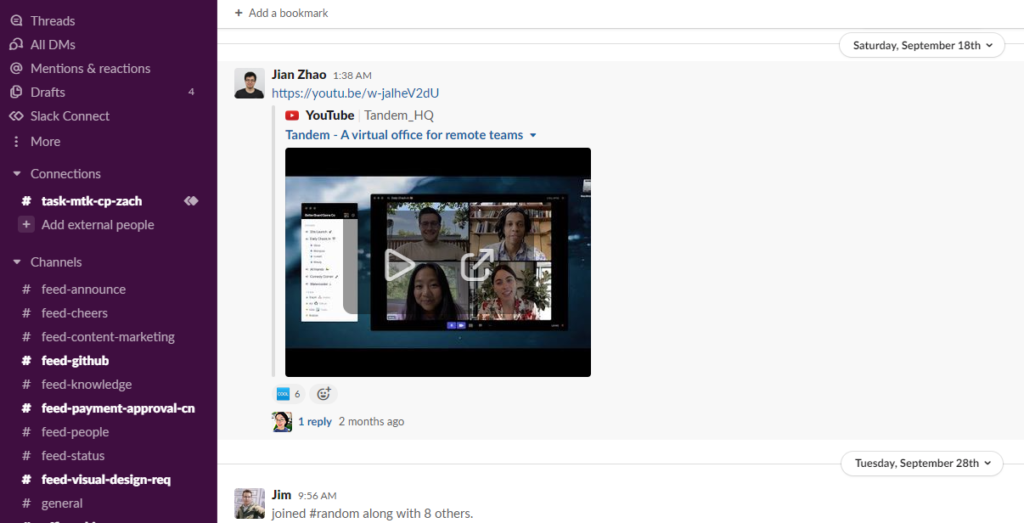 Related: Helpful Slack Integrations: Boost Productivity
Microsoft Teams
Microsoft Teams is offered as part of Microsoft365 and Office365. The remote communication solution also offers messages, channels, file sharing, and audio and video conferencing. The platform is a popular choice for organizations that are already leveraging Microsoft tools.
Project management solutions
When working from home, you need a way to keep track of progress and projects. Simply popping into someone's office or chatting by the water cooler is no longer an option. Even businesses with a hybrid model need greater transparency with project status. Remote work management tools offer that level of visibility and are easier to manage than multiple spreadsheets.
Related: Get on Track with These Project Management Examples
As you search for the right project management solution, be sure to add these to your list of options:
Trello
Trello offers a project management solution in a Kanban format. Users can keep track of projects across multiple boards, cards, and lists. You can also create public boards to collaborate with external partners or clients. To expand your workflow further, integrate your favorite communication solutions such as Slack, Google Workspace, and Dropbox.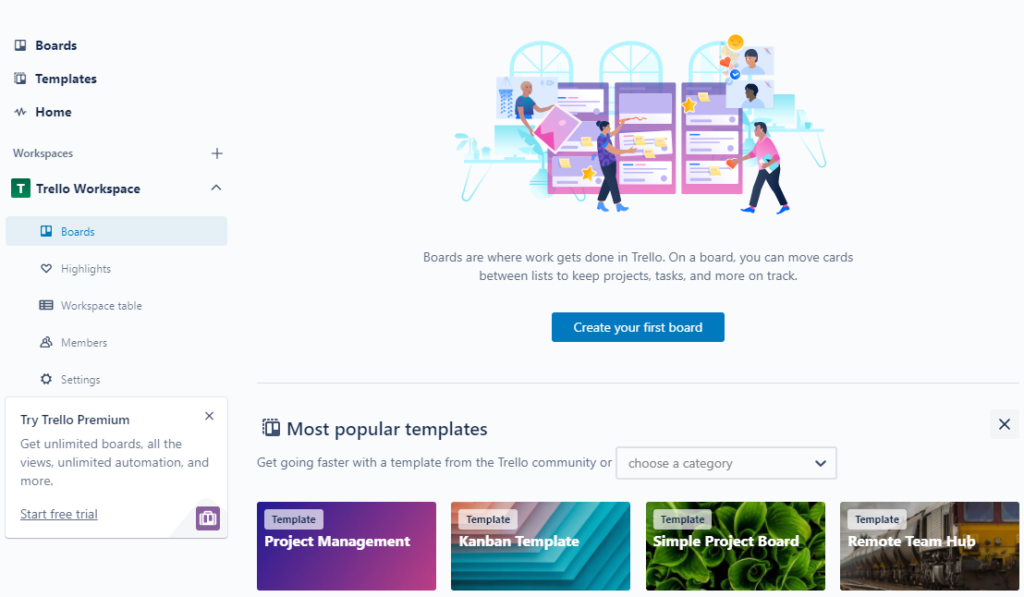 Asana
Asana provides visibility into subtasks, tasks, and projects through its web and mobile project management tool. You can assign tasks to users, add deadlines, upload relevant files, and create reports. The Asana dashboard offers a convenient way to quickly view which projects are on task and which are at risk so you address risks quickly.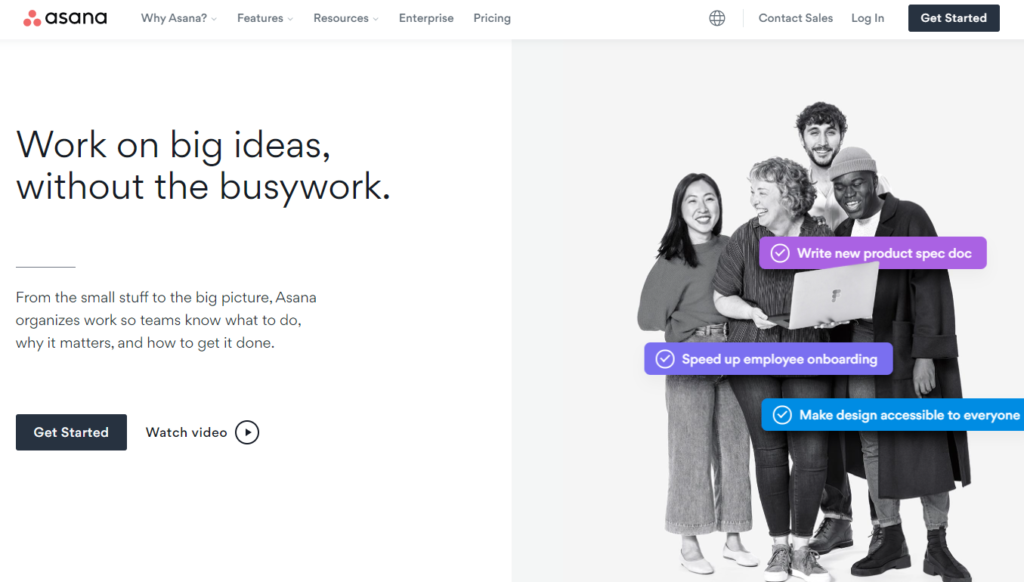 Monday.com
Monday.com provides both customized and templatized workflows for project management. Like Trello and Asana, you can create timelines, view your calendar, track tasks, and collaborate in real-time. There are additional features like Kanban boards, Gantt charts, customizable automations, and integrations.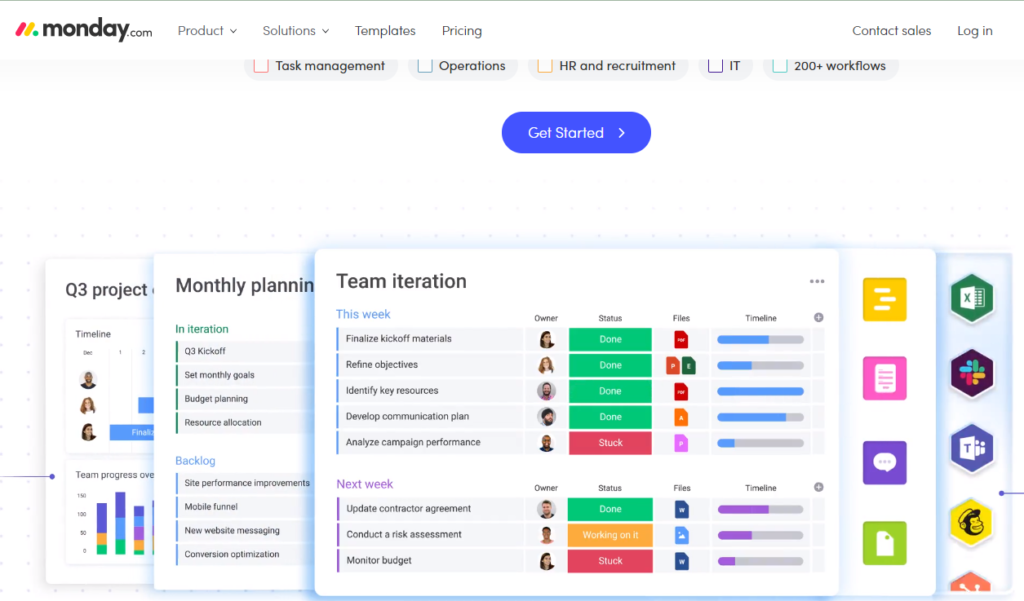 Want a closer look at what real remote collaboration can look like? See Vibe in action with a free product tour.
We are sorry that this post was not useful for you!
Let us improve this post!
Tell us how we can improve this post?