Thanksgiving is just around the corner, and it's the season to say thanks and give back. We started in 2018 with humble beginnings and an ambitious goal to transform modern workspaces. Since then, we've come a long way. The Vibe community is already 15,000+ members strong, and we're beyond grateful for each and every one of you who has joined us on this journey.
That's why, during this holiday season, we're giving back to the community that has graciously supported us. Vibe is donating one smartboard to a school or non-profit for every 10 boards purchased in November, and we're accepting nominations for recipients here.
We hope to empower those in need with the tools and technology that enrich their learning and working experience.
Our Vision is to Create a New Way of Work
Vibe is more than a state-of-the-art SmartBoard. In fact, Vibe is more than a product. At its core, Vibe customers and employees are united by the shared belief that there is a better, smarter way of working. We envision more collaborative and engaging meetings of the minds, and we strive to create free lines of communication between teams across the globe.
Our new Smart Board is Vibe's solution for the current remote work phenomenon, yet we will not stop innovating until Vibe has become an integral part of your everyday workflow, regardless if it's in-person, hybrid, or remote. We strive to empower everyone with the freedom to share ideas and engage with anyone in a natural, authentic way, regardless of distance.
We do this because we don't see work as a chore. Instead, we see it as an opportunity to grow together and improve our community. All of our solutions are designed to help teams of all shapes and sizes build upon that opportunity with smarter collaboration. We are here to make sure you never have another boring, unproductive work meeting again.
How Vibe Became What It Is Today
Empowered by our core mission of improving the way we work, we built our first SmartBoard through years of experimentation and prototyping. After countless hours with expert engineers, developers, product leads, and focus groups, we are confident in Vibe's ability to transform the way you work forever.
Believe it or not, we actually began our journey with AR/VR technology, but soon realized that this technology isn't feasible for the masses in its current state. So we pivoted to another emerging technology that allows for seamless and fluid communication in the physical realm as well as the virtual realm — Smart Whiteboards. And thus, Vibe was born.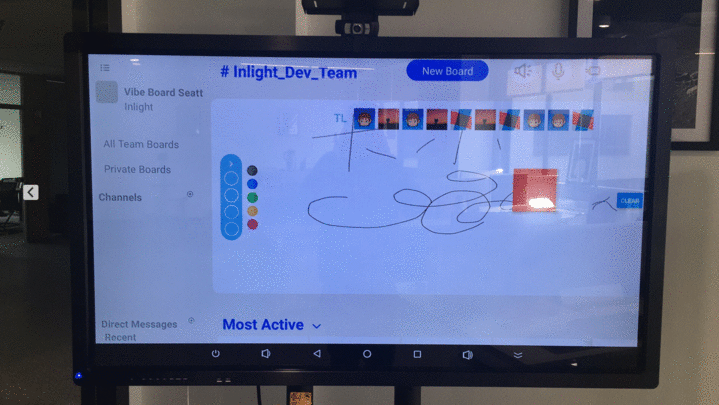 Many companies are either focused on hardware or software, but we choose to do both. It's a difficult thing to do well, but it's the only way to reinvent the space. New hardware requires new software that enhances the user experience, like touch screens instead of a mouse that mimics the sensation of pen to paper. That's also why we are heavily investing in our Canvas App, to make it the best touch screen online collaboration app on the market.
At Vibe, we do not choose to do things because they are easy or hard; we choose to do things that are necessary. We build things that we believe will genuinely impact the future of our workspaces for ourselves and our future generations. By donating smartboards to schools and charities in need, we hope to inspire future generations to join our mission of building a better tomorrow.
This is just the beginning. Onward to the future of modern workspaces. Happy holidays everyone.
We are sorry that this post was not useful for you!
Let us improve this post!
Tell us how we can improve this post?