Right now, you may be fully adjusted to work-from-home life. You've likely mastered Zoom, and may have even interviewed new candidates for your company without ever meeting them in person. But even though work offers some methods for socializing online through text apps and virtual meet-ups, you may be looking for other ways to talk to people.
It's also important to socialize with others outside of work. Remember, you want to keep your work and your personal life balanced. The second your colleagues become your best friends, the harder it'll be to ever leave the job for more prosperous opportunities.
Here are ways you can branch out and improve your social life while working remotely.
Socializing online with friends, family and coworkers
Ask friends to play an online game with you
Whether it's Words With Friends, Animal Crossing, or even Call of Duty, games can bring friends together. Gaming with someone is a good way to lift their spirits, along with your own. And the best part? It's a completely safe activity. See what types of games you can find using your Vibe board. It has multiple apps that you can integrate, and they're continually adding more.
Host a virtual movie night
What's better than hanging out in your own house, with your favorite inexpensive snacks, and the ability to pause the movie whenever you want? Doing all those things with friends! Streaming platforms and video call apps make it easy to stay connected even while everyone watches from the comfort of their own home. Pick a streaming platform and movie that everyone can access. You could even share-screen with your favorite movie and swap with your friends.
Plan a classic video chat
Video chats can be a great way to connect with friends or family without the pressure of hosting. With video chats, you can share screens, listen to music and hang out while seeing one another.
Take part in collaborative projects
For those who are more creative, joining up with other artists is a fantastic way to socialize. You can either create something new or update an old idea together. Even if you aren't working on the same project, working on them respectively over a video call is a great way to enhance ideas. Having an interactive whiteboard can make the process of swapping ideas easy.
Try socializing online with a new book club
Sometimes life just gets too busy to read. Being stuck at home is a great chance to catch up on your favorite author. Add in an online book club to get a weekly dose of socialization, and it can be the perfect escape from the ongoings of the world. If you can't find one you like, create one with your friends and family. (And yes, audiobooks can count as well.)
Ways to connect with close relations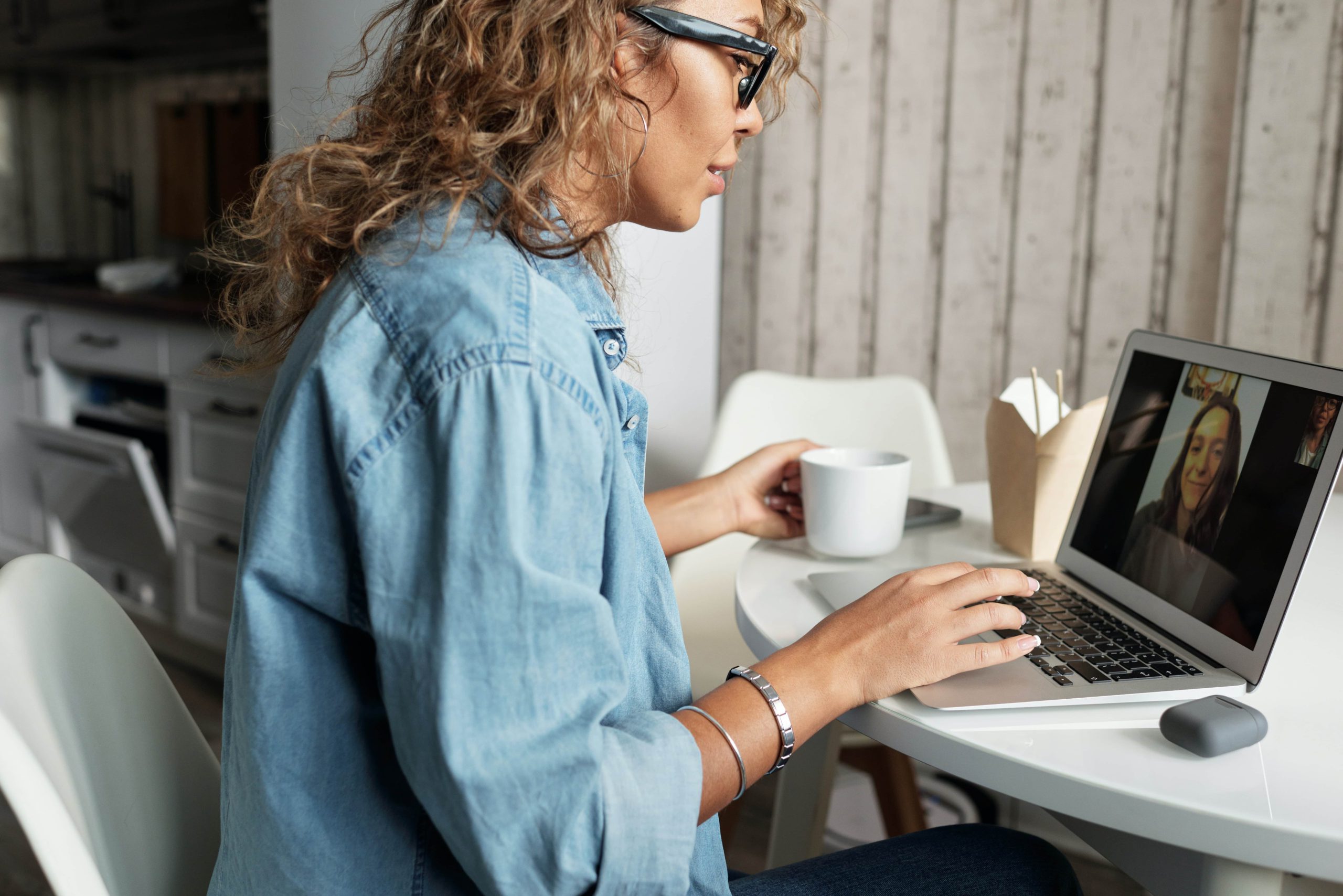 Send long emails
Long gone are the days of snail-mail pen pals. While it's still great to write letters, it's also pretty nice to get a long email. Use your downtime to construct a great email to a long-lost friend you haven't heard from in a long time. It'll keep you busy, and it'll make them feel loved.
Set up time for a phone call
Talking on the phone isn't as common as it was ten years ago. Sure, you probably have some phone conferences for work, but when did you last call someone just to chat? Plus, it's important to step away from video chats every now and then since Zoom fatigue is a real thing.
"An amazing amount of neuronal mass is dedicated to reading people's faces, sensing emotions, social cues, the ambience, intuition," said Eric Zillmer, a co-author of Principles of Neuropsychology, in an interview with the Philadelphia Inquirer. With every Zoom call, your brain is busy reading nonverbal cues. That can get a bit exhausting if it's an app you've used frequently while working from home. If you're talking through your laptop, don't feel any pressure to turn on video.
Send pick-me-up presents to your closest friends
It's easy to shop online and send a small surprise gift to a friend. It can be something self-care related, like a pedicure kit or face masks, or something fun like a desk accessory or funny t-shirt. Selecting and sending items is fun, and it's a nice way to let your friends know you're thinking about them. (Working on a tight budget? Sharing your favorite podcast is a nice way to connect, too.)
Related: Synchronous vs. Asynchronous Communication: Benefits, Strategies, and Our Advice
Socializing online while flying solo
Online dating
If you were single throughout the pandemic and are continuing to work remotely, now might be the time to branch out and meet someone. By now, you're used to talking online, so you've likely built up more confidence than you realize to send someone a message or ask them out on a video date.
Of course, people are still meeting in person these days. They're just being more careful. "For a first in-the-flesh date, keep it outside, where the risk of coronavirus transmission is lower," writes The New York Times. "For the nearly 20 people interviewed for this article, walks were by far the top choice, followed by picnics and then backyard barbecues or a drink at a restaurant with outdoor seating."
Try out TikTok
Chances are, you're heard of TikTok before. It's one of the most popular social media apps since Instagram. With TikTok, you can make videos for your friends that are under a minute long. For many young musicians and comedians, this is how they're breaking into the mainstream. Even if you're not looking for stardom, you can at least entertain your close friends.
Find a message board or forum
Online forums are great since they allow you to further explore your interests and maybe make some friends along the way. You also have the option to stay anonymous if you'd like. There's nothing wrong with befriending a bunch of strangers all over the world when you all share the same unique hobby. These types of friends will also help clear your mind of work stress. Since they're likely not at your company, the conversations can just be hobby-based and enjoyable. Just be careful not openly hurt someone else's feelings while online. Even while anonymous, people still have feelings.
Experience virtual reality
If you are lucky enough to have a virtual reality headset hanging around, you have access to one of the coolest ways to socialize online. Places like Second Life allow us to escape into a virtual world and live out some pretty crazy experiences. It's the perfect way to immerse yourself, hang out with friends, or even make new ones. Even better is that you can log out at any time, unlike the real world.
Take an online class
Being stuck at home offers you a great chance to catch up on some online learning. There are plenty of (free!) courses that you can find online, and many community colleges are now offering online lessons.
Useful apps for socializing online
There are many different apps that can be used with interactive whiteboard technology. Here are a few options to make socializing online even easier.
TwoSeven is the perfect way to watch movies or shows with friends. With an easy setup, you can watch directly from your browser or device. Stream from YouTube, Vimeo, Crunchyroll, Netflix, and more for a stay-at-home movie night.
Rec Room is a great free app for VR games. Join your friends and family by making a cartoon avatar. Meet other players, play games, or just hang out with friends in places like the park. It even has a builder mode, so the options are endless.
Zoom does have a paid option, but their free tier offers up to 100 participants for up to forty minutes. Desktop compatible, you can chat with friends and family. Hook it up to a virtual whiteboard, and you can share trivia games or artistic projects.
Goodreads is the best app for finding your next book. They also have online book groups and chat rooms. You can even track your current reads. Utilize a virtual whiteboard to keep a running total for your club or line up the next good read.
Socializing online doesn't have to be limited to texts and virtual meet-ups. Pick up a new hobby, learn a new skill, and find new ways to connect using any of the ideas on this list. With some practice, we're sure you'll find plenty of ways to feel like part of a community.
Curious to see how Vibe can make working and socializing from home even better? Check out the blog or sign up for an upcoming webinar demos.
[Editor's note: this post was originally published September 1, 2020 and updated August 4, 2021.]
---
Vibe offers a collaborative solution combining an interactive digital whiteboard and innovative smart software. Increase engagement and efficiency at your brainstorming sessions, virtual training, and classroom sessions by integrating your favorite applications with video conferencing and an infinite, mess-free writing canvas. Collaborate today with Vibe.
Looking for the latest in interactive whiteboard technology? Check out Vibe today!
We are sorry that this post was not useful for you!
Let us improve this post!
Tell us how we can improve this post?